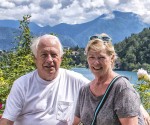 We are retired, American Expatriates living, full time in Ascoli Piceno, Italy. Ascoli is a provincial capital set in the eastern foothills of the Apennine Mountains a short distance inland from the Adriatic seacoast of central Italy. We love travel and learning new things. Our base in Ascoli provides an excellent location from which we hope to continue to explore all of Italy and the rest of Europe. Larry loves photography and history and Arlene loves people and food.  This blog is a means for us to share our enthusiasm with others. Please join us on our adventure.    
                       This site, its textual content and images, are intended for private, non-commercial viewing and enjoyment only.  Prior to making any commercial use of this site or any of its contents, contact with the authors is to be made and appropriate arrangements put in place.  Thank you for understanding and supporting the intent of our efforts.
©   Copyright Protected
**The photo of us shown above was taken in the Julian Alps of Slovenia at Lake Bled during August 2015.