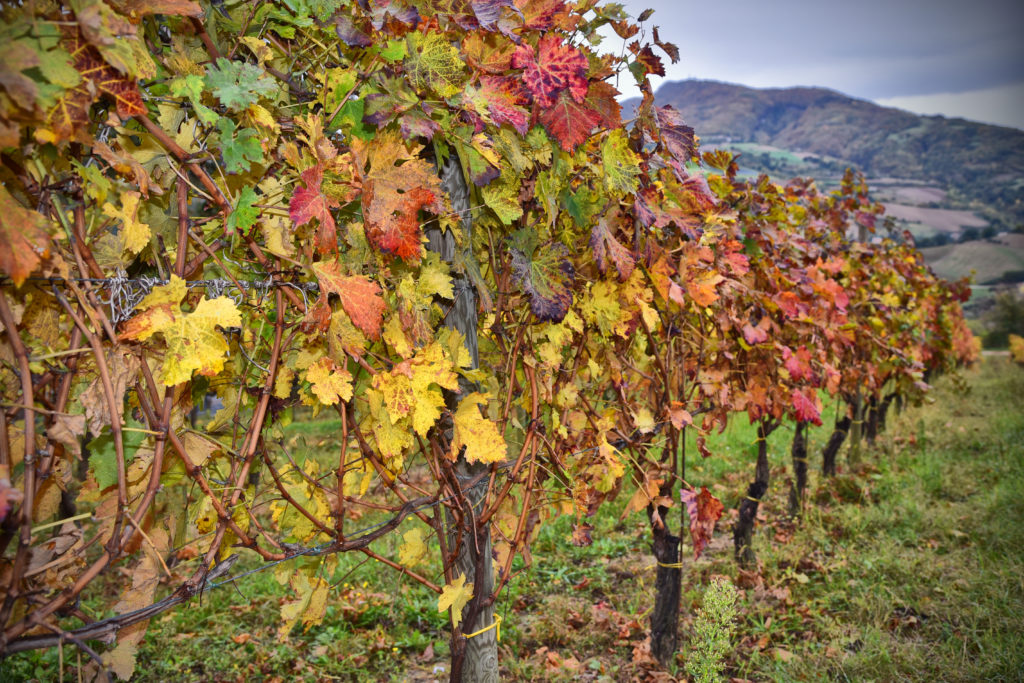 AUTUMN TRANSITIONS
Autumn has come to Ascoli Piceno. Recently, it has been pleasantly mild after a more abrupt, cooler temperature change in mid-September. It seems there is no justification in this hemisphere for using the term, 'Indian Summer' because there is no evidence of any indigenous people from North America having lived here. Never-the-less, being creatures of habit, that is how these transplanted Americans are referring to the current, pleasant weather.
In this latter third of October, tree leaves have started to change and more of them are starting to find their way to the ground. Recently, during some sunny, mid-day hours, we have enjoyed going for walks and running errands in shirt sleeves. But the sun is moving lower on the horizon and by late afternoon, at least a light jacket is in order. Something even more substantial, is called for in the evening. Just now, off in the distant heights of the Sibillini Mountains, we can see some fresh snow. A reminder, winter is coming.
The seasonal weather isn't the only aspect of our lives in transition. We have started a more involved process of changing our immigration status in the Republic of Italy. Up till now, we have been legally approved to remain in Italy through the granting of a so-called Permesso di Soggiorno, literally a permission to live here subject to reauthorization every two years. Italian immigration regulations also provide for an immigrant, who has been in residence in Italy for at least five years, to be eligible to apply for a Permesso di Soggiorno per Lungo Sogggiornanti, essentially a long-term, alien residence permission.
What is different in the granting of this status is that it authorizes residence in Italy for an open-ended/indefinite period rather than being subject to re-authorization every two years. A distinction is that the long-term permission must be administratively renewed every five years. Being approved for an indefinite period but having to renew every five years may seem a contradiction. But this is Italy, so we just accept it. Making this change would simplify some administrative processes and more accurately reflect our present intention, for the foreseeable future, to remain in Italy rather than returning to the U.S. We plan to retain our U.S. Citizenship and have no present plans to become citizens of Italy.
An administrative hurdle for approval to become long-term residents is the passing of a formal examination of competence in the Italian language at the European Union defined category of A-2, Basic Advanced.  Yes, this is the same test we stressed about three years ago, but it ended up it did not appear, at that time, to be really be necessary. So, this time, we are attempting to get this behind us for the above reason and just in case it might come up later. Being Italy, you can never be sure.
The formal test is in six parts including written and aural comprehension, grammar plus written and spoken communication in Italian. There are several alternatives to taking this examination including on the local, Provincial level. However, we have found, through direct experience of having tried this approach, that the local Provincial resources are severely strained in attempting to keep up with the influx of refugees. So, for us, this has not been a viable solution.
An alternative method of attempting the language competence examination is to take it through one of four entities approved by the Italian government for that purpose. Among the approved organizations authorized to issue a CILS, Certificate of Italian as a Foreign Language, is the University of Siena. The university accomplishes this through its affiliated Leonardo da Vinci Language School with facilities in Florence, Milan, Rome and Siena.
The tests are scheduled to be given four times a year. The next scheduled test is 6 December 2018 and we have signed up to take that test in Rome. We have also made arrangements with the Leonardo da Vinci School in Rome for a language test preparation course in the week prior to the formal test. Our present plan is to go to Rome in late November and remain there until the day after taking the test. Arlene has found us a pleasant apartment in Rome to use for that time, so we will have a more comfortable place to study and relax.
People sometimes ask us, "How long has it taken you to become fluent in Italian"? As much as I wish we could say otherwise, our competence in the Italian language is not near as fluent as we might wish it were.  Over the time we have been here, between some attempts at formal and informal instruction, plus immersion, we have a level of Italian that seems to get us by with most day-to-day needs, material and social. As an aside, on social interaction, it seems many of the Italians with whom we have established a very comfortable social relationship are generally curious, culturally open and gregarious people. They are as curious about us as we are about them. So, there is an underlying desire to work things out linguistically. In fact, our assessment is the capacity in English of many of our Italian friends has improved faster than our Italian.
But that won't do when it comes to passing a formal, language competence exam. As a result, over the past month, we have spent time in formal Italian language instruction at a local, commercial language school. Currently, we are taking joint lessons with an instructor dedicated to attempt to enlighten just the two of us. She is, very fortunately, not only very capable but also patient and friendly. It is a very long time since we have had to complete homework assignments. But that is where we are.   We have found the more relaxed atmosphere of being retired has dulled an effective and energetic personal response to 'musts'. But we journey on.
The passing of the language exam is a specific, defined goal. However, we have a more fundamental desire to improve our comprehension and communication in Italian. That is simply because it will improve what we get out of the many cultural events to which have such ready access.  Plus, it will obviously improve our interaction with Italians. When all is said and done, the goal of increased immersion is the more important one and will require continuous effort for improvement well beyond achieving a bureaucratically defined level of competence.
The backdrop for this challenge is the Italian language has evolved to become highly sophisticated and capable of expressions with nuance. With fourteen possible verb conjugation forms and word gender designations bearing no relationship to biology, for foreigners, Italian is not an easy language in which to acquire a high level of competence in a very short time. Given the evolved complexity of the language, there are any number of rules but also a dizzying number of irregularities and exceptions.
It recently occurred to me that a possible parallel exists between language structure and social culture. For an American, the history of Italian culture represents a much longer continuum than we are used to in our relatively young country. In Italy, a traceable history is not only evident in the changing forms of the architectural remnants dotting the landscape, history seems to also be imprinted in the temperamental DNA of these people. Like the language, in social interactions with Italians, there is a range of complexities accompanied by some occasional surprises.
From the reactions of Italians to events in their long history, they seem very suspicious of concentrations of power and authority. As well they might be. Authoritarian power hasn't worked very well for them in their long history nor even as recently as in the Mussolini era. Even today, many Italians seem largely indifferent to recognizing Rome as the seat of national authority. An irony is as much as they complain about the government in Rome appearing inept, they also aren't really interested in having Rome exerting  very much influence on their lives.
A corresponding manifestation appears to be, in spite of all the rules and regulations in Italy, there is also an almost rampant, capricious, non-consistent approach to rule interpretation and enforcement. Some have suggested there is a deliberate 'vagueness' in the Italian legal framework to permit 'flexibility'. In reaction to it all, Italians seem to demonstrate a determined indifference to structure and an inherent commitment to be in non-compliance. It may be that the persistence of so many language dialect variations is one more way to assert a strong sense of individuality.
There is an interesting dynamic that takes getting used to. In close, personal associations, as in a family circle or immediate social relationships, a delightful warmth and feeling of affection is very apparent and appealing. But when the bond of relationship becomes less personal and the radius of association gets extended, the dynamic appears to change. Extended to a point where anonymity is the dominating social condition and a much more indifferent, self-absorbed tone can become apparent. Of course, anonymity and personal detachment, tends to coarsen interactions in most societies. But as a newcomer it can take some getting used to when navigating the distinct contrasting immediacy of the generous warmth on an immediate personal level and the indifference on display in a larger, more detached societal interaction.
For example, being on the road, drivers can act with a seeming total disregard for each other. I am still unnerved to find a car in my rearview mirror at high speed, so close, I can't see his headlights. We are frankly surprised the accident rate is not much higher, but these people seem to have adapted to this competitive environment of ego display and assertion.
From my upbringing as a native New Yorker, I have had to guard against a reflexive reaction to someone crowding me or stepping in front of me as not being something of a direct, personal challenge or insult requiring a response. I have come to understand, what is happening is not really intended to be a confrontational, personal affront. The other person is simply not particularly concerned that you are even there. When a more intense and assertive projection of self becomes the norm, most Italians simply seem to accept it and move on. I'm still working on getting to that point.
There may have been some reactions to this Blog wondering if I have gotten so overly infatuated with Italy to the point of missing some 'complexities'. I can't deny that as a possibility plus, we are intent on having this be a positive experience. Perhaps the tone reflected above is to let readers know that even now, we still find things to adjust to in cultural, temperamental differences. I don't know how there could not be social adjustments to be made after inserting ourselves into a culture different than the one into which we were born.
In the final analysis, it boils down to where anyone's 'comfort zone' is on balance. As we repeatedly report, this Italian experience is working out better than we could have hoped. Are there some social disconnects, do we choose between people we prefer to have as friends? Of course – we did in the U.S., why wouldn't we find there are people here we prefer to relate to rather than some others? In that dynamic, Italy is not all that different than anywhere else.