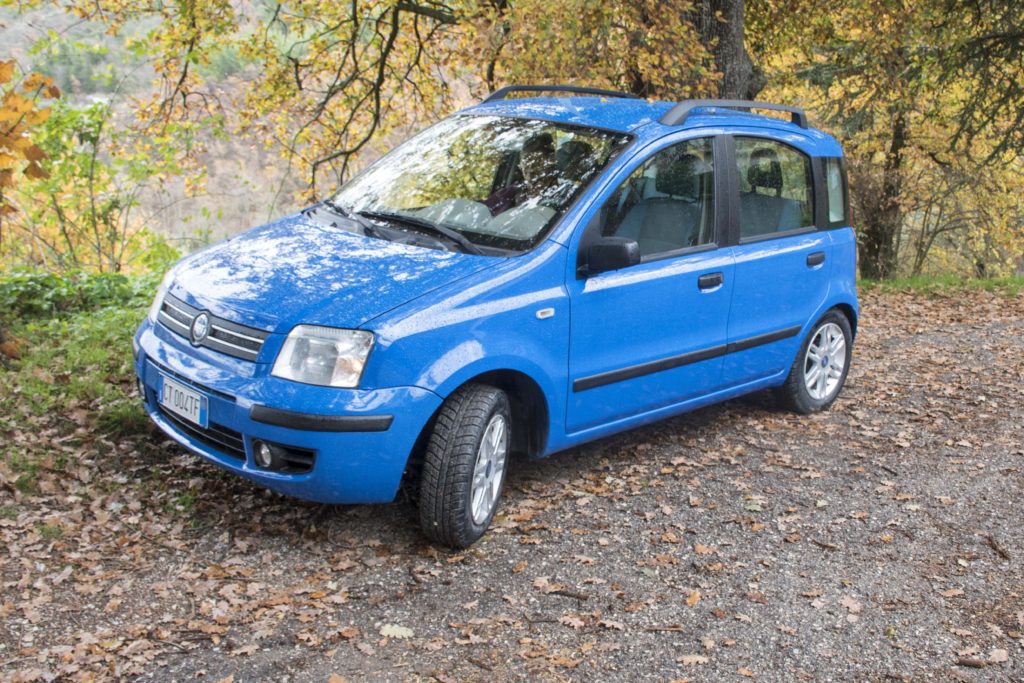 LOGISTICS REVISITED
Consistency is supposed to be a virtue, except when it no longer is. We are now well into the fourth year of our Expatriate adventure in the Central Italian, provincial capital of Ascoli Piceno. What has remained consistent is our enjoyment of this place, its people and the quality of life we are experiencing.
Some decisions make a lot of sense at a given point in time. One of our early decisions was to do without owning a car. We did, on occasion, rent a car or a van but that was largely for IKEA runs or visitor tours. But like the song says, times they are a changing – yes, we just bought a car.
A 2005 Fiat Panda diesel powered vehicle is now part of the family. Arlene has decided to name the Panda "The Boss," derived, or so I understand, from the Fiat Marketing Department's name for the color in which the car is painted – 'Bossa Nova Blue.' I also understand there is no allusion to Bruce Springsteen implied.
This change in our life has come on gradually. Our initial concentration had been on becoming more comfortable being part of the life around our home in the historic center of Ascoli Piceno. A factor in choosing this place was because of the many options it presents within easy walking distance of our apartment. The terrain is generally flat and the visuals in this distinctly historic and architecturally stimulating setting still excite us. Other than some excursions into the countryside with friends plus trips by air or rail to more  distant places, we had not  wandered very far out of central Ascoli in the process of daily life.
It seems as time has gone on, our circle of Italian friends has widened with the result that not all of them live within central Ascoli. Many of our friends with cars have been more than generous in transporting us to social events outside of Ascoli. But after a while, imposing on friendship not only gets awkward, our self imposed limit in taking advantage of spontaneous possibilities has run it's natural course.
Reinforcing that aspect, over time, we have been exposed to small, picturesque villages and hamlets tucked away in remote corners that speak of a time long past. That is another aspect of Italy we want more flexibility to experience. And then there are wonderful Agriturismo accommodations found all over Italy that are generally only reachable by car. So yes, we changed our minds.
The only snag is that we need Italian driver's licenses. The European Union will not recognize a valid driving license from outside the EU after one year of residency in the EU. And because the U.S. has fifty different driver's licenses, there is no reciprocal license recognition with the separate States of America. So now, I am enrolled in a mandatory driving school,  have already passed a medical, then comes a written test on rules in Italian followed by a driving test to be licensed to drive in the European Union. Frankly, it has taken this long for my Italian to approach the point of attempting a complex written test in the language. Arlene is watching how the process goes for me and won't be far behind in working on her Italian license.
Logic says to work on the Italian driver's license first then go look for a car. Based on research we had done earlier we were looking for a smaller, reliable, modestly priced vehicle with utility and economy of operation. That narrowed the field to a few options. Just to test the water, we checked the website of a recommended dealer and found he had a used vehicle that appeared to be along the lines of what we were looking for. Just in case, we went to look at it and it was love at first sight – the deed was done. Future, post Italian driver's license issuance trip options are already being dreamed about and keeps me motivated to slog through arcane Italian wording. Completing the Italian driver's license process now can't come soon enough.
Another factor motivating having a car was a change in our orientation that had taken place to feeling more rooted here in Italy. In the process of deciding to remove our remaining personal items from the U.S. and bringing them here, we assumed there was a sense of 'finality' in doing that. But once those familiar items were again part of our immediate surroundings, this adopted place took on much more of a feeling of 'home.' We think it was that sense of permanence that motivated us to feel we ought to reconsider the car issue. An added factor was we are both still in very decent health but as life goes on that should not be taken for granted going into the future.
Embracing the life of Expatriates in Italy was really all about expanding our horizons. The current modification to our plans has simply been to make further horizons more accessible. Options, that is what life really seems to be about particularly when it is being shared with someone with the same vision.