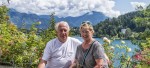 NEW YEAR'S PERSPECTIVE 2016
I am spending a post-Christmas and New Years afternoon in our comfortable Italian apartment reflecting on the year that has just passed. This my third attempt at a synopsis of recollections and impressions at the year's end since we arrived in Ascoli Piceno two and a half ago years ago.
On a day in late June 2013, we stepped out of a hired van with a driver that brought us from Rome's Fiumicino airport to the start of a new life in Ascoli Piceno. On arrival in Ascoli, the sights had a vaguely familiar look. But that slight sense of familiarity was based on a remote, two-dimensional, visual-only impression derived from hours spent absorbing Google Earth images. And now we were standing in a mid-afternoon light rain in the three-dimensional reality of Ascoli Piceno. Neither one of us had ever set foot on the ground in Ascoli before that moment. On that drizzly June day, we arrived in the historic center of a town in the middle of Italy where we had chosen to live.
We had left the country in which we were born and had spent our lives being intimately involved with family, friends and demanding careers. Moving to Italy had been no impetuous decision. We had thought long and hard about it. There had been a whole host of issues to be resolved. But as each issue was tackled, it seemed to strengthen our resolve that together, we were doing something important.
At this juncture, a reasonable question to ask is how we are now feeling about this major change. As time has gone on, we are becoming increasingly comfortable here in Ascoli. So we still feel convinced this is the right thing for us to be doing. We also have an awareness that this experience seems to be changing us. As a result, I find myself wondering how comfortable it would be for me to now return to live in the country I came from.
Seeking new experiences was a major factor in motivating us to becoming Expatriates. For the first year or so in Ascoli, we were very engaged in the settling-in process. Not that there isn't more progress yet to be made but by the start of 2015, most of the basics were in place. The year 2015 did not disappoint by presenting us with even more expanded horizons. In this past year, we had increased opportunity for travel.
In late January we returned to the U.S. for a month-long visit. Concerns over the health of extended family members were the primary timing motivation plus a desire to reconnect, face-to-face, with the rest of the family and close friends. And there are always some loose end tidying up that needs to be done in a major change like this. In our blog post, A Stranger In A Familiar Land, we discussed feeling like a 'visitor' in a place that used to be home.
In May, we went to Milan and spent two days at the EXPO. In the Portfolio portion of the Blog there are some photos of highlights of the Expo experience. Milan is a major Italian commercial center with a pace and energy very similar to the atmosphere of the New York City in which I grew up. Milan is a stimulating place but at this stage of our lives we would not likely choose to live in New York. And so the more tranquil pace of Ascoli Piceno seems to resonate better with who we are now. The year 2015 was a special opportunity for us with Italy hosting this major international event. The Expo was worth seeing and we enjoyed it very much.
Our next excursion was in August during Ferragosto, the annual Italian summer vacation period tradition claims the Roman Emperor Augustus established in 18 BCE. We decided to go somewhere new. The choice was Slovenia. We went by train first to Trieste, Italy to spend three days overlooking the water at the northern end of the Adriatic Sea. From Trieste, we travelled north by train and crossed the Italian-Slovenian border by taxi at Gorizia – Nova Gorica. From there we went still further north up the Slovenian Soča River valley in a vintage, Marshal Tito-era, diesel two-car train to a small station at Lake Bled in the Julian Alps. The high crest of the Alps in this area forms the border between Slovenia and Austria.
The lack of a direct rail connection between Italy and Slovenia is a reminder that until the demise of the Soviet Union's domination of Eastern Europe, Slovenia was considered behind the 'Iron Curtain.' While the former Yugoslavia had enjoyed a degree of autonomy from the Soviet Union under Marshal Tito, it still had been considered 'Communist-enough' to not be integrated into Western Europe. After the fall of the Soviet Union, Yugoslavia itself dissolved into ethnically separate regions. The tragedy of the Bosnian-Serbian conflict is still fresh in the lives of many. But Slovenia was spared much of that strife and is today well along to being integrated into the rest of Europe.
English, American-style, is very capably spoken throughout much of Slovenia. We felt very comfortable and warmly welcomed there. At Lake Bled, we took an excellent private, day tour high into the Julian Alps with Sašo, an outstanding local guide recommended by Rick Steves. The scenery in the Julian Alps of Slovenia was exceptional.
From Lake Bled we went on to Slovenia's capital, Ljubljana. It is a vibrant, cosmopolitan, picturesque city and a must see. From there, to break up the trip back to Ascoli, we spent a few days in historic Padua, Italy. We wrote earlier about some of what we experienced there in our blog post, How Scared Are We? We were reflecting on the role of church dogma inspired Italian art in the Middle Ages.
In early November, we did a sixteen-day exploration of Spain. We started in Madrid and went on a three-day art museum saturation safari. Being outside the traditional tourist season, treasures such as the Prado, the Thyssen-Bornemisza and the Reina Sophia collections were wonderfully accessible. We also did a daytrip to Toledo and had the benefit of a private guided tour that included the magnificent Toledo Cathedral originally commissioned by King Ferdinand and Queen Isabella. It had been their intent to be buried there until the royal seat was transferred from Toledo to Seville. It is in Seville where they were eventually buried.
Then on to Granada by rail plus bus, with a four night stay inside the walls of the Alhambra Palace. It was the last bastion of the 700-year, Nasrid, Islamic-Moorish rule on the Iberian Peninsula. We had read Washington Irving's, Tales of the Alhambra, in preparation for the trip bringing the experience even more alive. From Granada, on to Seville to bask in more examples of Moorish architecture only this time a royal palace commissioned by a Christian king utilizing the skill of the remaining Moorish architects and building craftsman. The Seville Cathedral is exceptional and is understood to be the largest gothic-style church in the world. The cathedral also houses the tomb of Christopher Columbus not far within the nave from the final resting place of his royal patrons, Ferdinand and Isabella.
Next, we took a flight across Spain from Seville to Barcelona on Vueling, Iberia Airline's budget subsidiary. As anticipated, Barcelona was wonderful. Tourism was more in evidence there. Cruise ships frequent the port. English is more common and costs tend to be a bit higher. It is a vibrant place with a lot going on particularly for people a little younger than us. From Barcelona, it was a short flight back to Rome.
The highlight of Barcelona was to experience the architecture and other creative work of Antonio Gaudi. Like many others, we had seen photos and documentaries of Gaudi's famous creation, the Sagrada  Familia basilica. But nothing comes close to actually experiencing that space in person. It is captivating to absorb the shear volume of the interior, the flow of curves, the optimization of the play of light and the rendering of massive masonry structural elements into forms that celebrate nature. Construction work continues all around a visitor to the church, as the edifice is not yet finished. We also visited Gaudi's Park Güell project and his last residence. Then we toured the La Pedera apartment building he also designed. A visit to Barcelona is not complete without experiencing the Picasso Museum and the Four Cats Restaurant, a Picasso haunt. Picasso spent formative years in Barcelona.
We are now in the later phases of the Christmas – New Year's – Epiphany (Befana) celebration here in Ascoli. The season has been festive, colorful and the gift exchange tradition here is alive and well. But somehow Christmas here seems saner, in proportion and to have more of a community feeling of sharing joy with family and friends. Arlene has posted some comments on our American Thanksgiving – Christmas Italian style. On New Year's Eve, we once again hosted a lively party in our apartment. This is becoming a tradition.
Italy continues to intrigue and fascinate us. The pervasive influence in Italy of the Roman Catholic faith is evident in the presence of so many churches and the reality that the annual Italian calendar is articulated with so many events celebrated in the Roman Catholic rite. We have a number of wonderful friends who are devout Roman Catholics. But their faith seems more personal and private than some of the more fervently evangelically religious we encountered in the U.S. Frankly, to the extent that their faith informs who our Italian Catholic friends are as people says more to me personally because I am drawn to them by the values they actually live as opposed to what others may feel obligated to declare.
But Italy is also a secular society. The dynamics of how individuals respond to matters of religious faith is very complex and nuanced. That plays out similarly here in Italy as it has everywhere else we have experienced. But in Italy, the celebrations of the Roman Catholic Church are also focal points around which family life is generally organized. For some, religious feast days are an important spiritual exercise. For others, it is primarily another opportunity to concentrate on family relationships and good friends without much underlying religious fervor in evidence. And of course, there is every kind of response in between all orchestrated around seemingly endless courses of eating.
I previously acknowledged, I have lost some of the commitment I once thought I had to the Christian dogma in which I was raised. However, I still find myself moved by sacred music and feel a sense of oneness as we enter a church and find ourselves among people in silent prayer and meditation. My sense of oneness with these people in an act of worship comes from a personal awareness of myself still on a quest to find answers to some of life's most demanding and perplexing issues.
On this personal journey, I have found the goal I originally thought I was after gets continuously redefined. For that reason, I tend to think of myself as more of a "Seeker" on a very long journey rather than someone having arrived at a particular fixed dogma. I haven't found final answers because on this journey in which I find myself, I am constantly discovering new questions.
I also confess I have come to be a bit wary of those who claim to be convinced they have found final answers. I prefer to leave the door a bit ajar to let in some fresh ideas from which there may be something new to learn. The current, less than optimal state of world affairs seems to indicate that those who want to profess being in possession of final truth are perhaps, the most likely sources for conflict on so many levels. In the most negative extreme, some dogmatic statements, whether religious or political ones in religious garb, appear to be little more than an attempt to add a 'righteous veneer' to what is nothing more than a desire to dominate and control others.
I constantly confront reminders of the limitations of my perceptions and the depth of my understanding. The world and the fascinating people I encounter continually call out to me to be more open and less judgmental. In starting out on the Expatriate experience in a wonderful town in Italy, we didn't come here with an expectation of doing anything approaching finality. It has been the beginning of a journey that we hope continues to go on for a long time to come. The trip itself and being well travelled has turned out to be what is really important. And that is what we are looking forward to continuing to do as we pass into another New Year.