SPRING IN ITALY
According to the calendar, astronomically, the spring season is supposed to have begun on the 20th of March. It appears even in this time of almost instant, electronic communication, that message has been slow in arriving here in Ascoli. In reality, as of this writing in late May, we are still having a replay of last years' experience with a reluctant retreat of winter and a very slow arrival of the much anticipated warmer, spring-like weather.
At least the botanical realm appears to be on schedule. The trees are in full leaf and brilliant wild flowers decorate the roadsides and the fields. Another traditional feature of springtime is the presence of some yellow pollen traces on our outdoor terrace floor. But that's what antihistamines were developed to handle.
Our regular, rented spot on a sandy beach on the Adriatic is all lined up again for the summer. We had hoped to have gone down there for some early beach days by now, but the slow onset of beach-weather has discouraged that. If the weather pattern will be a repeat of last year, over a short period we will transition from late winter almost instantaneously into early summer. We are ready.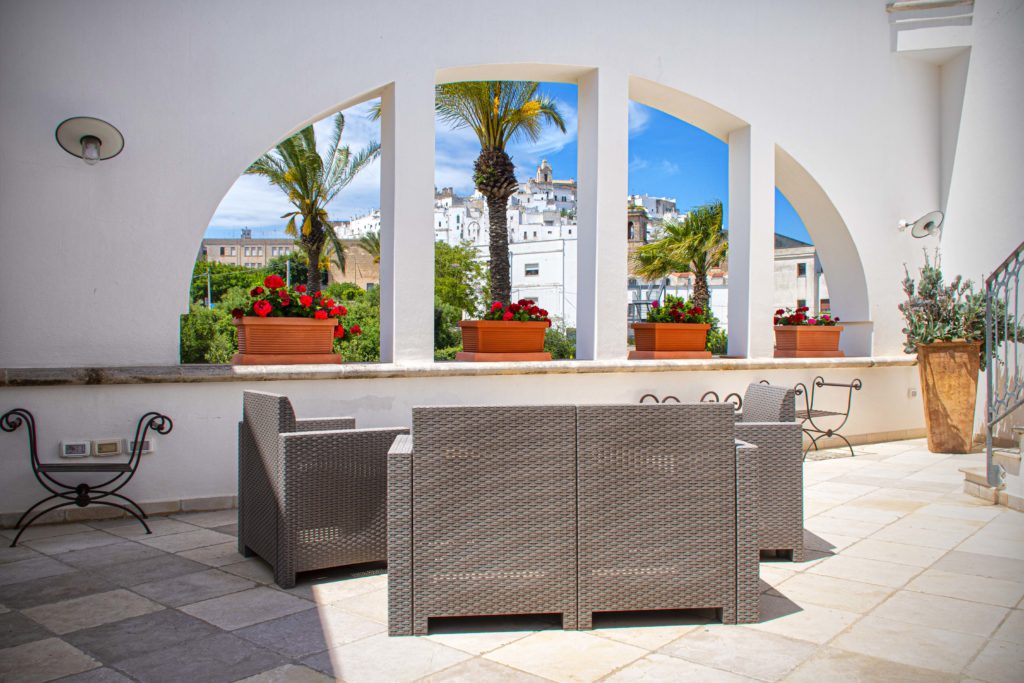 The month of May is special in our lives as our wedding anniversary falls on the 21st. This year, we are celebrating our 31st anniversary. As we reported in this Blog, last year for our 30th, we enjoyed two weeks in the south of France. This year, we took a more modest celebratory trip a little closer to home. We went on a three-day holiday, by convenient train, to the south of Italy. We chose a place also on the Adriatic, in the region of Puglia, otherwise described as the heel of the boot of Italy, to explore the 'White City' of Ostuni.
The town is situated on an elevation about 8 km inland from the Adriatic coast.  As we understand it, the predominance of white on the majority of the buildings is tracible to the period of the Great Plague when applications of Lime were thought to have disinfecting qualities.

Added to that, Ostuni was at one-point part of the Magnum Greco, or Greater Greece, with the summer sun cooling, reflective qualities of white seen everywhere there is Greek influence. The city had been destroyed in its early days by the Carthaginians under Hannibal. It was the Greeks who rebuilt it. After the fall of the Roman Empire, the Normans occupied the area. With the subsequent colonization of all of southern Italy by the Spanish Bourbon kings, Ostuni remained under non-Italian sovereignty until the Resorgimento, the unification of an independent Italy in 1861.
Our hotel was just outside Ostuni with wonderful views of the very nearby white structures of the historic center. And from our windows, we enjoyed a panorama over the olive groves to the coast of the Adriatic, unmarred by high-rise structures.  From our vantage point, at the juncture where the Adriatic meets the sky, we could observe the broad, sweeping, gentle arc that makes up the surface of the sphere which we inhabit. This was our first exposure to this area in southern Italy and it surely won't be our last.
Some of you who have read earlier postings on this Blog realize we had been obsessing on getting through the Italian immigration requirement to achieve a level of basic adequacy in the Italian language. The objective of the requirement is to understand basic-advanced, written and verbal communication in addition to being able to produce comprehensible written and verbal Italian. As part of that process, in early December of last year, we sat for a formal language examination in Rome. We are delighted to report that in March, we received notification that both of us had passed the examination. Two, big sighs of relief were heard coming from Ascoli Piceno.
Having gotten that hurdle behind us opened the door to apply for the next level in our status as resident immigrants in the Republic of Italy. Until now, our permission to lawfully remain in Italy has been subject to reapproval every two years. Having now resided in Italy for over five years, and having met the language requirement, we became eligible to apply for a permission to lawfully remain in Italy without a fixed expiration date. It is, essentially, an equivalent of permanent, legal residence status. The only stipulation is to provide updated photographs every five years to be applied to the identification document we are required to carry.
The processing for this change in status has involved additional documentation and the application of multiples of the ever-present, document tax stamps. But the paperwork is in and we had our first interview and were informed of the other, not previously specified documents that needed to be presented. But in Italy, one comes to expect this sort of thing and just rolls with it.  With luck, by the beginning of July, we hope to have our new immigration documents.
Recently, we received an unexpected request. Not unlike other parts of the world, Italy is still struggling economically. Additionally, the local area is still in process of attempting to recover from the earthquake damage of two years ago. Most of that damage was concentrated further to the west of Ascoli along the spine of the Apennine Mountains. Ascoli had some damage but nowhere on the scale of some of the small mountain villages to the west.
A new initiative has been started to attempt to attract and increase tourism to help bolster the regional economy. A grant of funds from the earthquake recovery governmental resources has been provided and a broad initiative to enhance tourism has started. To our surprise, we were approached by the coordinating body for this initiative to participate in the 'kick-off' conference to make a formal presentation before the group. It seems, this Blog had come to the attention of some of the local community members who felt we could bring the perspective of 'outsiders' to the question of what we felt were the more attractive attributes of the Ascoli-area that could appeal to potential tourists.
We had met earlier with members of the organizing group to better understand what it was they were interested in having us discuss. In preparation for the conference, we wrote and re-wrote drafts in English and divided the presentation between us. Next, it needed to be translated into Italian and thankfully, several of our Italian friends also helped us get it right. Finally, our good friend Serafino sat with us as we practiced reading the Italian to correct our pronunciation.
When the conference day arrived, we found ourselves in front of an audience made up of political and commercial leaders of the area, all Italians, of course. On arrival, one of the organizers asked, "Were we giving our presentation in English?" When we replied, "In Italian", we received a very bright, Italian smile in acknowledgement. We equally divided between us what worked out to be something like a fifteen-minute presentation. The audience was very kind, and we received applause when we finished. I wasn't initially sure if it was because they were glad it was over, or they appreciated it. Actually, some very kind people said it was the latter. As for us, we were glad it was over.
We have also been out on some excursions with a local group made up of mostly Italians.  We became affiliated with a local organization with the initials, UTEAP which stands for Universitá Terza ETA, the University for the Third Era. Referring to the 'senior-stage' of life.  This is the organization through which we both previously took a class in Italian Cooking and which Arlene took again this year. We have also been to some of their other cultural programs.
Several Saturdays ago, we participated in an all-day bus outing with the UTEAP organization to visit three sites north of Ascoli in the Province of Macerata. These three sites are considered to be significant both architecturally and more broadly in illuminating the role of monastic orders in the chaotic period after the fall of the Roman Empire and during the dispersed dominance of local feudal authority. It was interesting to be in these places where some semblance of learning was being preserved in the chaos following the fall of Rome. In those turbulent times, the monasteries and abbeys were largely self-sufficient entities, and like their local feudal lords upon whom they depended for military defense, they were often in opposition to the centralized power of the Papacy. The tour was organized and ably conducted by a Professor of Medieval History.
Our contemporary world also seems to be in a period of turbulence. Occasionally we get asked how we now feel about living as foreigners in Italy and what our perspective is on the increasingly contentious world of elevating nationalism. Whether it is the United States, Europe or other nations within the interconnected-globalized world, many seem to be experiencing growing tensions within their societies. A major aggrevant to these tensions is the almost universal increase of inequality of access to capital resources.
Additionally, Italy has born the brunt of mass migrations out of Africa, parts of the Middle East and the Balkans. The goal of the European Union to promote some unifying, integrating structure has yet to define an approach to accomplish that without damaging unique member state's cultural identities. It appears perceived threats to identity issues makes for a potent brew for discontent.
For us, to live in a culture different in many ways than the one that conditioned us is still a vibrant experience that stimulates us, and we hope, provides opportunities for personal growth. Are there some social patterns that are different than we are used to? Of course. But we are the immigrants here. It is up to us to adapt to this culture and not the other way around. But on the whole, whatever the occasional headaches, this continues to be the experience we want to have. Italy represents a place where so many milestones in the long history of the development of Western Culture are so immediately accessible. There is also comfort in stepping out of the door of this over five hundred year old building into a place that has seen so much change and yet has survived so well.
There is always a danger in attempting to make cultural cross comparisons. A significant risk is in inadequately communicating and opening the possibility of misinterpretation. As to some of the reasons we still feel comfortable here against the backdrop of all the globalized insecurities, it is in our instinctive reactions to the cultural world around us. We continue to find an underlying cultural value-system we want to relate to. Under, what to some is an overall first impression of an almost prevailing anarchy in Italian life, on closer, and patient examination, there is something far more substantial. That initial impression of a pervasive anarchy is a collective impression. In this land of great contrasts, on an individual basis, there can be great warmth, accessibility, and a feeling of welcoming connection.
In a May 18, 2019 article written by the New York Times editorial columnist, Roger Cohen, he was commenting on what he found in Italy underlying the apparent increase in nationalist, political rhetoric. I hope Mr. Cohen will forgive my paraphrasing his excellent comments. Essentially, in spite of what appears on the surface to be increasing levels of social and political upheaval, at its more substantial core, Italian social interaction seems to still be guided by a sense of a humanity. That humanity is found in the value of connectedness that goes beyond cold, indifferent, transactional priorities. People here still can strive to interact based on who they more broadly are rather than being motivated by seeing the 'other' primarily in terms of limited utility objectives.
We sense a depth here in having people appreciate a wider spectrum of what can be simply called, beauty. In Italy, the world of the sensual can seem largely rescued from the cheap and distasteful. Of course, Italy is no different than many other places dominated by commercialized, mass communication media. All too often, in overly commercialized contexts, good taste seems inversely proportional to increasing profitability. But in Italy, if you know where to look, and it is generally not very far; art is appreciated, and good music is appreciated. And both are not only valued but readily accessible.
In a culture of value it can also be in taking the time and making it a priority to enjoy a carefully prepared meal with fresh and immediate tastes, especially with a glass of affordable local wine with all its complexities. And that experience is enhanced when enjoyed over a relaxed and extended time together with friends, filled with pleasant conversation. It is no surprise to us that Italy is still thought to embody La Dolce Vita.