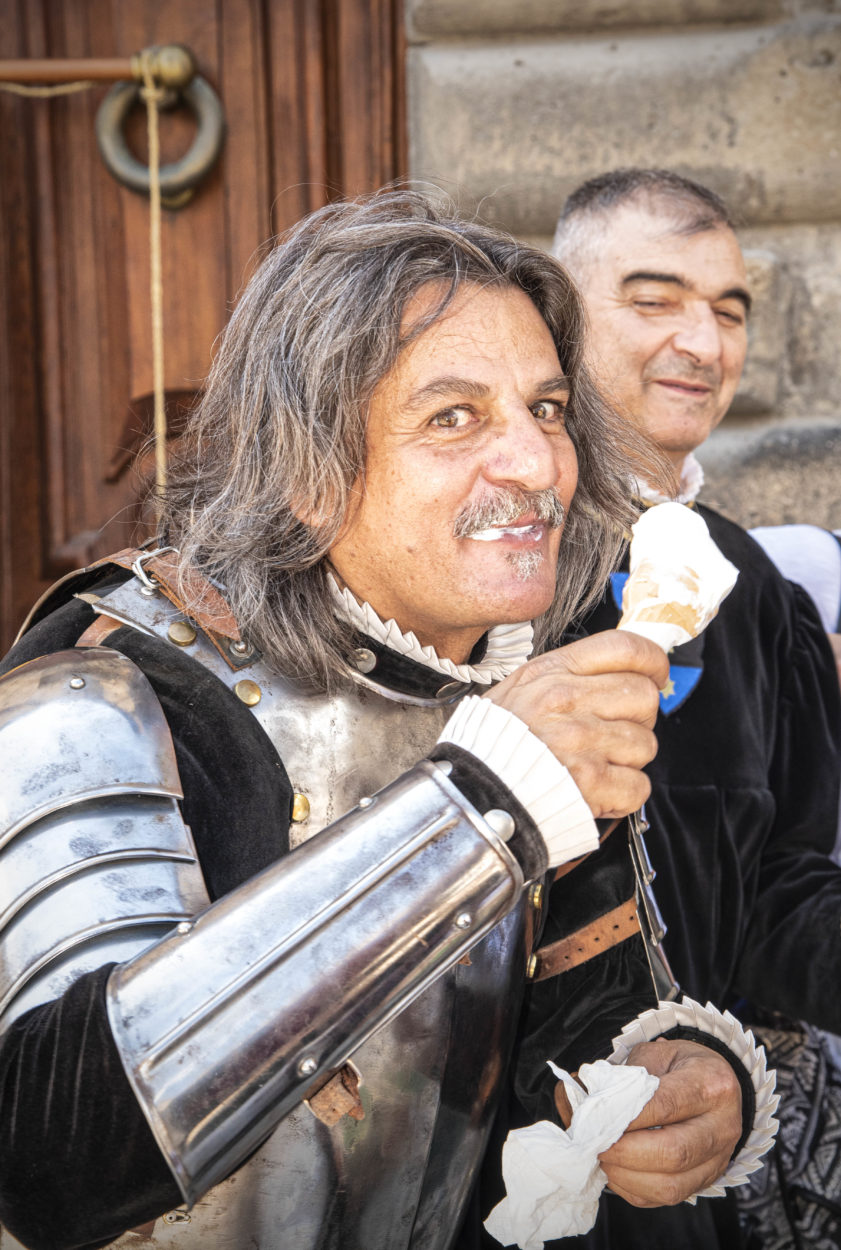 SUMMER IN ASCOLI PICENO
It is now early September.  Time, and the seasons with it, seem to be moving faster and faster. Most people from North America recognize 'Sunny Italy' to be located in the southern portion of Europe. While that is quite literally true, in reality, we have been living in Central Italy at a point that is a full ten degrees of Latitude further north than our former home in San Diego, California.  As a result, we have had to make adjustments to our conditioned expectations as to when seasonal changes are likely to occur.
Another adjustment factor involves the irrefutable evidence that changes in climate patterns are continuing to occur. In the brief six years we have made this place our home, we have detected subtle changes that have occurred year-to-year.  Spring at this latitude seems to have become compressed from being a gradual transition into an almost binary change from late winter into early summer. Over more recent years, the more mild and pleasant months of May and into June have tended to remain somewhat damp and chilly. And then there has followed an almost abrupt, abbreviated transition into very warm, make that very hot, summer weather.
For those of us from North America, we tend to think of the American observation of 'Labor Day' in early September as a pivot point around which the anticipation of the arrival of Autumn takes place.  Here in Central Italy, the observance of 'Ferragosto', the traditional holiday break decreed to be on August the 15th by the Roman Emperor, Augustus, becomes the emotional transition point for anticipating seasonal change.
As in most of Europe, here in Italy, August is the traditional month for vacations, so don't plan on getting much of anything done in Italy during that period. In Italy, non-vacation-oriented activity seems to come to a virtual stand-still.
Family vacations in most of the world tend to favor summer for travel. The mass tourism industry has responded and grown exponentially to service this market. As a result, culturally interesting locations, with Italy high on that list, have become inundated by the overcrowding inherent in mass tourism during the summer.
We agree with others who have travelled and lost any enthusiasm for coping with the suffocating crowds mass tourism brings. Among the reasons we had for becoming expatriates in retirement was the ability to easily travel to and enjoy culturally significant sites 'off-season'. We enjoy nothing more than an 'off-season', leisurely stroll through a delightful Italian town or city with essentially only local residents in sight. Yes, perhaps a restaurant or two may be closed but in the ones that are open, the service and the prices tend to be better than in high season. And accommodation choices are also much better.
Our priority has adapted to find relaxation and to enjoy the Italian summer sun on an exceptional, nearby Adriatic Sea, sand beach. Three years ago, we lucked into an opportunity to rent a defined spot at a commercial seaside operation associated with one of the hotels at the shore in nearby San Benedetto del Tronto.  This operation is one of some one hundred that line the long shoreline interspersed with space for free access to the beach and the Adriatic for anyone who wants to use it for the day. Even in peak season, the organized spacing of individual spots in these commercial operations moderates density to a very acceptable level. That is a very different experience for me when recalling my youth in summer on New York City public beaches.
But for us, a modest investment, gets us a defined space on the beach equipped with a small, round table, fitted with a sun umbrella, and two adjustable lounges. This special spot, situated less than 15-meters from the waterline, is all ours for the entire season. It is about a 30-minute drive from Ascoli and during July and August, there is also a dedicated public bus right to the beach.
What started out as an opportunity to simply be near the water has evolved into a very socially active lifestyle. Our readily accessible day at the beach, now includes several other expat friends who also decided to rent beach spots nearby. Additionally, we are right next to one of our closest Italian friends. Over time, we have become acquainted with other Italians who regularly spend their summer free time on the sand. Added to that, regular seasonal seaside visitors include a very pleasant Austrian couple from Vienna who have been spending some three weeks at this same spot for over twenty-five years.
An 'artifact' of Mediterranean Culture is the protracted, midday break. We find ourselves still somewhat bemused to look around after one o'clock in the afternoon and find ourselves among the few people still on the sand.  The protracted midday break for 'Pranzo', essentially lunch, and a rest during the heat of the day is a matter of tradition that is so ingrained it is as if it is required under cannon law. Here we are during a peak vacation period with a very pleasant beach experience almost all to ourselves from one to four in the afternoon.
We occasionally take sandwiches, but the commercial operation also includes an outdoor, covered seating area and a very capable kitchen.  They are also purveyors of very tasty gelato. We have developed friendships with the very pleasant and conscientious operators and staff of this enjoyable place. It adds a special element to be warmly welcomed when we arrive and feel a comradery with these very fine people. For transplants like us, it is one more way to feel accepted.
Something that strikes us is the delightful 'normalcy' of the experience.  There are people on the beach of all ages. Families are there enjoying the day together with everyone relaxed and happy. The overall atmosphere is wholesome. Perhaps it is my expat 'rose-colored-glasses-effect' in operation, but in similar settings in the U.S., I recall having more of a feeling of the presence of some amount of 'hooliganism' and some occasional excess alcohol use that I don't sense here. This is not a free-wheeling boardwalk environment. This summer, the local authorities also imposed a smoking ban on the beach, much to our delight.
The Adriatic itself is different than what we had been used to. The shore tapers off into the water at a much shallower angle. After wading out a bit, you are probably still only up to your thighs. And there are also occasional sand bars adding to the safety for both young and old. Going further out toward the rock breakwaters lining the shore, you can find some spots over your head but that's not the norm.
Swimming is enjoyable in the generally calm, clear water and if you tire, you simply lower your feet and stand up. The water temperature is mild without being tropical. On a hot day, it is very refreshing. Atlantic Ocean surf does not exist here. The very wide Adriatic feels more like a very pleasant, large lake.
Lounging in and at the Adriatic isn't the only thing we have done this summer. Ascoli Piceno continues to be a vibrant, culturally interesting place. There have been free outdoor concerts and of course the annual reenactment, medieval Quintana Festival from mid-July through the first week of August. As we have done in the past, there is a separate post on this Blog made up photos of this year's spectacular.
Then there have been the food festivals, 'Sagra', not only in Ascoli but in the surrounding regional area. We continue to discover new foods and wines to enjoy.  And very little time goes by without someone organizing a gathering to enjoy an Italian evening with good friends and fine food and, of course, exceptional local, wine.
We attended a very well done, mid-summer, performance of Verdi's, Rigoletto with friends at the outdoor opera venue in nearby Macerata. And we also enjoyed an outdoor presentation of the Greek Tragedy, Medea, staged in the ruins of the second century BCE, Roman Theater here in Ascoli.
As we progress into Autumn, we already have reservations made to return to the U.S. for a visit in November. A prime motivation is the continuing deterioration in the health of Arlene's mother. She seems to have lost ground over more recent time since we visited this past January. Additionally, my older brother is coping with the aftereffects of two strokes. There is no question we want to interact with these important people in our lives while it is still possible.
First, we will visit with family and friends in California and then on to Mississippi to see our middle daughter and husband and then go on to Florida to visit Arlene's mother and my brother. From there, we will board a non-stop flight from Miami back to Rome. This will be for us an almost four-week trip.
We are also pleased to report, an important milestone occurred recently. After an essentially five-month processing period, we were granted our Permesso di Soggiorno per Lungo Periodo, essentially, our Resident Alien immigration permission without a defined expiration. We were beginning to suspect the term 'long period' referred to the processing time. But nothing administrative in Italy happens in haste. Otherwise, we are now considered essentially, non-citizen, permanent residents in Italy. We feel very good about that.
The upcoming fall season will bring harvest festivals for both field crops and, of course, the gathering of the wine grapes to be pressed. The multiple celebrations are in process of being organized. Experience in Italy is full of pleasant, recent memories as well as anticipation for the new ones just around the corner.
It will come as no surprise for us to reiterate our delight with having made the decision to not only settle in retirement in Italy, but the fortunate choice of Ascoli Piceno.  This place is definitely, now 'our home'.
**The photo at the title of the post was taken during the July Quintana Festival as the some 1,500 costumed participants in the procession through Ascoli were in preparation for the event to begin. This 'knight' was savoring some last minute refreshment just before the parade began in Mid-July Italian heat.